In Memory of Jeff Naideau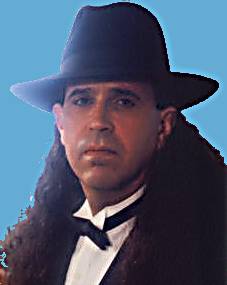 Jeff Naideau 3/5/54 - 6/17/02
Jeff Naideau, 48, N.O. piano player
06/20/02
By Keith Spera
Music writer/The Times-Picayune
Jeff Naideau, a pianist and singer who gave up a career in Los Angeles to move to New Orleans and immerse himself in the city's piano traditions, died Monday of a heart attack at Tulane Medical Center. He was 48.
Jeffrey Edgar Naideau was born in New York and grew up in Connecticut. After graduating from Simon's Rock of Bard College in Massachusetts, he moved to Los Angeles to become a professional musician.
Though trained in classical piano -- he performed a set of difficult compositions by Rachmaninoff as his graduation recital -- he found work in the world of rock 'n' roll. He toured as the keyboardist for the hard rock band Quiet Riot and the 1980s pop band Wang Chung and worked with vocalist Eric Burdon and former Doors guitarist Robby Krieger.
But even as he made a steady living pounding out pop and hard rock, he harbored a not-so-secret love for New Orleans piano traditions. He studied the music of Professor Longhair, James Booker and Dr. John, three of that tradition's major figures. Mr. Naideau and his wife, Dana, made annual pilgrimages to the New Orleans Jazz and Heritage Festival.
During one such visit, the performer Eddie Zip invited Mr. Naideau to join him onstage at Andrew Jaeger's House of Seafood in the French Quarter. After Mr. Naideau's performance, Jaeger's offered him a job if he ever moved to New Orleans.
In 1999, Mr. Naideau decided to do just that. Two days after arriving in town, he started performing five nights a week at Jaeger's. Steady gigs at Margaritaville and Charley G's Seafood Grill followed.
In 2001, Mr. Naideau released "Heaven On a Half Shell." Though it was his second CD, it was his first in the tradition of New Orleans rhythm and blues. The recording featured former Dr. John drummer Freddy Staehle.
Recently, Mr. Naideau's more frequent touring cut into his New Orleans performance schedule. He was booked to play in Italy, Spain and Holland this summer.
"Heaven On a Half Shell" found a receptive audience in Italy. While touring this spring, Mr. Naideau was surprised to discover how many Italians were already familiar with his music.
Late one night as Mr. Naideau and his wife drove along a narrow road in Italy's Tuscany region, the radio disc jockey announced that he was going to play a selection of New Orleans piano music. What followed was a set of songs by Dr. John, Professor Longhair and Mr. Naideau.
To be counted among such greats moved Mr. Naideau deeply. "He started crying, it made him so happy," Dana Naideau said. "Then he got out of the car and started dancing."
Survivors include his wife, Dana Sue Naideau; a stepdaughter, Collette Marie Philipp; his father, Harold Naideau; his mother, Hazel Naideau; and a brother, Harold E. Naideau.
A jazz funeral procession will start Friday at 9 a.m. at Armstrong Park, proceed along Toulouse Street to Bourbon Street, and then to St. Ann Street. It will end at Jackson Square with a memorial service at the equestrian statue of Andrew Jackson. Tharp-Sontheimer-Tharp Funeral Home is in charge of arrangements.
---
A Eulogy for Jeff Naideau
By Dean Shapiro
I first met Jeff several years ago when he was on piano, backing up my good friend, vocalist Roland Bob Harris, in the Jazz Court of Harrah's Casino. When he found out I reviewed CDs for OFFBEAT magazine, he gave me a copy of his first CD entitled SHINE. Since it was about five years old at the time, it didn't qualify as a new release and consequently couldn't be reviewed in the magazine. It sat quietly in my CD collection, almost unnoticed until the summer of last year when I was given his latest release, HEAVEN ON THE HALF SHELL to review.
As I listened to Jeff's second CD, taking the notes that I would incorporate into the review, I noticed that one of the tracks was titled "Shine" and I thought to myself, "Wasn't that the title of his first record?" I dug through my collection and, yes, sure enough, it was. I played the newer version and then I played the earlier version and they were, indeed, the same song. After about two or three listenings I knew this song had a magical, other-worldly quality about it. Like something that coalesced from formless cosmic matter in the far reaches of the universe, expanded to tremendous proportions, entered the atmosphere of our consciousness and blazed across the sky in the spectacular panorama of a meteor. I can honestly say that, in my more than three years of reviewing for OFFBEAT, I don't believe there was one single, individual song that bowled me over more than Jeff Naideau's second version of "Shine."
In my review I wrote, "If ever a single track deserved to be a breakout hit, this is it. It's the one with the catchy choral harmony you might walk out of the concert venue singing or humming." Jeff and I became close personal friends after my review came out in the September 2001 issue of OFFBEAT and I attended his CD release party at Andrew Jaeger's in the French Quarter on the 14th of that month. I was still working in the Mayor's Office at that time, and I was proud to present him with a Certificate of Merit signed by Mayor Morial for Jeff's generous donation of a portion of his CD sales to a worthy cause. It was a fun evening and, to me, the high point was when Jeff and his group -- backed up by "Lil Queenie" Harris, Estella Denson and Holly Bendtsen on vocals -- performed "Shine." It was so inspiring that several of us in the audience sang in unison with the chorus.
Shine
Shine on me
Shine on you
Shining through.
Let love make it shine
Shine for me
Shine for you
All your life
Shining through
I had visions of that song breaking out as a national hit. I could picture it being performed as a music video, with an enthusiastic audience in a big concert hall singing along with him and the chorus. It had that kind of infectuous quality. It was uplifting and inspiring . . . like an old-time gospel song. You couldn't listen to it and not get caught up in the spirit it projected. I told him all of this and together we planned to pursue the goal of getting the song made into a video but now, tragically, we won't have that chance. I hope someone will take this song and run with it and keep Jeff's memory alive but, no matter who does it, it just won't be the same.
Jeff had other good songs, too; two CDs' worth, in fact, but "Shine" will always be the one that "shines" above the rest. Not only for its inspiring and catchy lyrics and its mesmerizing choral harmonies, but because the song WAS Jeff. It epitomized him. He was the one who "Shone." As a musician and a showman but, most importantly, as a person. As a fine human being. One of the most gentle creatures to walk the earth in our time. He was well-loved among the New Orleans musical and artistic community because he gave so much of himself and did it with a smile and a kind word for everyone. I never heard him utter a bad word about anyone. I never saw or heard him lose his temper, and I never saw him present himself as anything less than a hardworking professional in his chosen craft.
Jeff was one of those rare individuals who comes into one's life in a soft, low-key way yet leaves a giant footprint. Sadly, I didn't know him very long. I was anxiously looking forward to doing more things with and for him in the coming months and years. Jeff gave generously of his time and his talents, performing for numerous charitable benefits for no compensation, other than the joy one receives from promoting a worthy cause. I recall the benefit a group of us hosted at Rock 'N' Bowl last November 25 for French Quarter piano legend Johnny Gordon. Johnny had been hospitalized with heart ailments and he required expensive bypass surgery. Jeff came in and played a few numbers, joining headliners Frankie Ford and Ronnie Kole on the all-star bill. The benefit raised over $2,000 toward Johnny's hospital expenses and, five days later, there was Jeff doing the same thing again. He led off the lineup for Timothea's "Once in a Blue Moon" benefit for victims of Hepatitis C at the Howlin' Wolf. And, a week or two after that he was doing yet another benefit, the exact name of which I can no longer recall. That was Jeff -- giving so much of himself for so little material compensation, yet doing it so cheerfully.
With his long dark hair flowing from under a trademark black, wide-brimmed hat and black tuxedo jacket, Jeff was starting to become a local fixture in the Quarter. Playing regular gigs at Margaritaville, Silky O'Sullivans and Andrew Jaeger's, Jeff was in the process of solidifying his standing in the local music community. Had he lived longer, there is no doubt he could have "gone all the way" to the top in his career.
It is sad when those we love the most leave us much sooner than we want them to. I have many fond memories of Jeff in an all-too-brief time and I, like so many of the others who also knew him, am going to miss him very much. The last time I talked to him was soon after his return from Italy in February and he was overjoyed to have been so well received there. He said they treated him like a celebrity because he was an American musician from New Orleans, and he was looking eagerly forward to returning to Italy this summer. He had a great career ahead of him and now, tragically, it is over. I hope there is a way those of us who loved him the most can come up with a fitting memorial to him. A way to honor his memory and keep his music and his great spirit alive. If I could draw, I would sketch a caricature of a tall, kindly-faced man with long, flowing dark hair, a black wide-brimmed hat, a tuxedo jacket and bowtie approaching the Pearly Gates with a huge sun shining brightly in the background projecting a few bars of musical notes and a single word: "SHINE." That single word would be a fitting epitaph to this good man and his career.
Shine on, Jeff. You brightened our lives with your warm, radiating presence and your beautiful spirit. God bless you, man. We're going to miss you very much. Our hearts and our heartfelt condolences go out to Dana, his lovely and devoted wife, and his other family and extended family members. We're all there for you, Dana . . . and for HIM.
---
Jeff Naideau
1954 - 2002
by Tom McDermott
offBEAT Magazine
New Orleans pianist and vocalist Jeff Naideau, 48, died June 17 of a heart attack in his Uptown home. A Conneticut native, Naideau spent the early part of his career playing with a variety of rock acts including Wang Chung, Quiot Riot, Eric Burdon and Robby Krieger. In the '90s, he became infatuated with the New Orleans piano sound of Dr. John and Professor Longhair and set his sigts on a music career in the Crescent City, finally moving to town in 1999. During his three years in the city he gigged consistently, highlighted by an extended six-nights-a-week turn at the French Quarter Andrew Jaegers's with sidemen that included the legendary drummer Freddie Staehle and vocalist Ellen Smith. He put out two fine CDs as a leader, 1995's Shine, and last year's Heaven on a Half Shell.
Jeff was uncommon among musicians for his inability to speak badly of others, his positive attitude, his kindness and spirituality. He will be missed by all who met him.
Tom McDermott
Home | Bio | Gigs | CDs | Photos | Reviews | Links | Guestbook