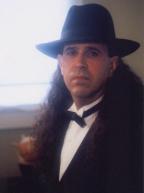 Jeff Naideau, a classically trained pianist, left Connecticut for California in the late 70's to join a rock-n-roll band. Since that time he has toured the world with such bands as Quiet Riot, Wang Chung, Eric Burden and Robbie Kreiger.
He had been visiting New Orleans over the years attending the New Orleans Jazz and Heritage Festival. During one festival, Jeff sat in at Patout's in the Quarter. The owner heard the performance and called him at his hotel to ask him to play for the remainder of his stay.
Jeff left Los Angeles and moved to the Big Easy to absorb the musical culture of New Orleans, and to learn from the best musicians that inhabit the city. A long time fan of New Orleans piano styles, Jeff has studied Professor Longhair, James Booker, and Dr. John.
Within one week of his arrival he was hired by Chef Andrew Jaeger as the house pianist at the House of Seafood in the French Quarter. He has had the honor of working with drummer great Freddy Staehle, as well as meeting and working with some of the best musicians the city has to offer.
Jeff is releasing his second CD on the Altered Records Label, entitled "Heaven on a Half Shell." Heaven is compiled of mostly original music with a swampy feel and is receiving airplay on WWOZ, 90.7 FM. The musicians that played on the CD include Freddy Staehle, Al Arthur, Earl Stanley, Matt Perrine, Kevin Clark, Earl Bonei, Craig Kline, Mitchell Cormier, Chad Cormier, Robert Moreira, Cranston Clements, Jerry Jumonville, Leigh "Little Queenie" Harris, Estella Denson and Holly Bendtsen.